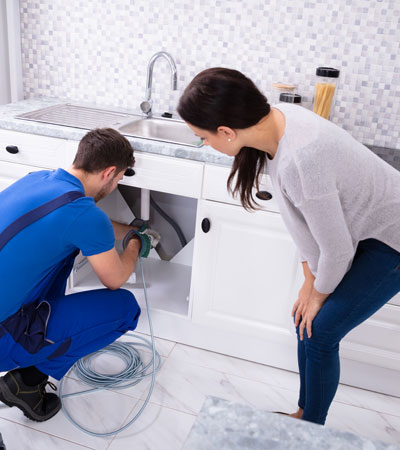 Do You Have a Clogged Drain?
Clogged drains are a serious issue, as they can slow down or impact your daily chores. They can leave behind unwanted residue and cause several other problems.
If you are looking for professional clogged drain services, you can count on Wood's Plumbing to fix the problem. Wood's Plumbing offers the best quality service, fast responses, and effective results. Our team of trained plumbers and drain cleaners are efficient and know their job well, and we guarantee you 100% customer satisfaction. By calling us, you can enjoy total peace of mind.
Contact us as soon as you notice any signs of clogged drains, so we can prevent a minor drain clog from turning into a major issue!
Signs That You
Have a Clogged Drain
It isn't always obvious that you have a clog. Some of the most visible signs of a clogged drain include:
Slowing drainage of sinks
Sinks that will not drain at all
Water backing up out of a sink drain
Water pooling on the floor near shower drains, bathtubs or bathroom sinks
Rotting smell coming from the kitchen sink
A gurgling sound coming from a drain or toilet
Sewage odors coming from the drains are a sign that the sewer line is clogged
Water bubbles in the sink when you run water
You can sometimes clear minor drains yourself by using a sink plunger. More serious drains, however, need to be fixed by experienced plumbers. If you suspect that you have a drain clog, our team will diagnose the source of the problem. Then, we will work to resolve the issue as quickly as possible and get your household running again.
What Causes Drain
Clogs?
Drains are clogged by unwanted substances that stick or clog the drain, making it difficult to drain out water. You can reduce your risk of clogs by being careful about what you put in your drain. Food waste, hair, and grease can all cause clogs, so you should avoid washing them down your sink drain. Using a drain screen can also help keep the drain clear. However, these aren't the only causes of clogged drains. If your home has hard water, it can cause mineral build-up, which eventually leads to clogs. Clogged drains can also happen when your plumbing pipes are disrupted by tree roots.
Regular Drain Cleaning Services Keep Drains Clog-free
At Woods Plumbing, we know how crucial it is to keep drains clog-free to ensure no disruptions in your day-to-day life. When our team of drain cleaners or plumbers arrive for a drain cleaning, they will also check your plumbing systems and identify any other plumbing issues that may be responsible for the drainage problems. Our regular drain cleaning services will help find any issues with the ventilation of the drains and identify any water leaks in the pipes. This will help lower the chances of a pipe burst emergency. Regular drain cleaning can help clear stubborn clogging, reduce foul odors, etc.
Our team of plumbers and drain cleaners can handle all types of drain issues, like:
Bathroom sinks/drain clearing
Kitchen sinks/drain clearing
Washing machine drain clearing
Dishwasher drain clearing
Our Offers
About Wood's Plumbing
When you're in need of a dependable plumber in Tucson, Marana, or the surrounding areas, Wood's Plumbing is here to help. We have been providing first-class plumbing and gas services since we first opened in 1979. Our team offers 24-hour emergency plumbing services to ensure that you're never tripped up by an unexpected plumbing crisis. To schedule a clogged drain service appointment, call us today at (520) 447-2138.