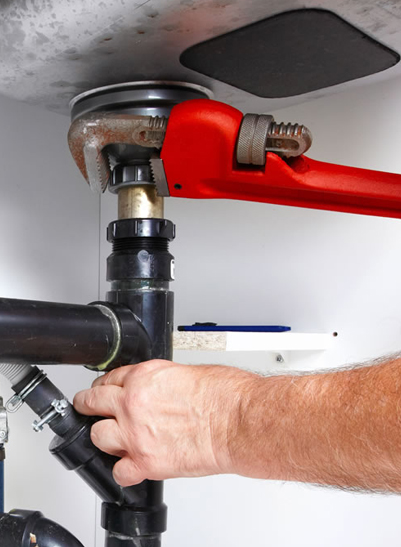 Looking for a plumbing technician in Tucson? Wood's Plumbing is here to help you.
Are you in need of a Tucson plumber you can always rely on? If so, then you're in luck!
Wood's Plumbing offers a wide array of essential services to residential and commercial customers in Tucson and Marana. We've been proudly serving the Southern Arizona community since 1979, and we are dedicated to ensuring that our customers are always 100% satisfied with our services. If you've got a plumbing problem in your home, we'll figure out the source of the issue and fix it right away. If you have an emergency plumbing issue, our experienced plumbing technicians will respond to it as soon as possible. No matter what kind of plumbing problem you're facing, we can help. From water leaks to sewer line repair, our experienced team can handle it all!
The plumbing services we offer to our
customers include:
Residential and Commercial Plumbing Services
Our plumbing services are fast, accurate, and always professional. That's why our customers know that they can always trust us with all of their plumbing needs. You can also save money on your plumbing repairs with our service agreements! Our warranties are unmatched, so we are confident that you'll be happy with the work we do. If you need an additional service, such as septic tank cleaning, we will refer you to one of our recommended contractors. We're your one-stop shop for all plumbing issues, and our customers know they can call us whenever they have a plumbing problem.
If you've got a plumbing problem in your home or business, then be sure to get in touch with us today! We'll be happy to provide you with a free estimate for your home plumbing issue.
Wood's Plumbing is a trustworthy, local plumbing company that has been serving the Southern Arizona community for the last four decades. We offer a range of plumbing services, including drain cleaning services, kitchen plumbing services, repairing water heaters and gas lines, and more. We provide reliable plumbing repair services in Tucson, Marana, and Oro Valley in Arizona, along with first-rate workmanship, personalized customer service, and a focus on details. Arizona locals have relied on our plumbing services since 1979, and continue to rely on us to help them with plumbing installations and plumbing repairs, because we do the job perfectly every time.
Emergency Plumbing Services
Whether you are looking for home plumbing repair services or need water heater repairs or drain cleaning solutions, we offer emergency plumbing services 24 hours a day. Wood's Plumbing offers a host of plumbing services to meet all your needs in your home or business. Some of our services include installation of sinks, faucets and toilet fitting, garbage disposals, septic tank services, and leakage detection and repair.
Why Choose Wood's Plumbing
Wood's Plumbing is the most reliable plumbing services company for homeowners and businesses in Southern Arizona. Our plumbing contractors are well mannered and friendly. We provide affordable residential plumbing services 24/7. We aim to exceed our customers' expectations and give them complete satisfaction with regard to their plumbing needs. We hire only the best plumbing technicians who are dedicated to providing the best possible experience to each and every customer. From our quick and swift response to our licensed plumbing technicians, we ensure our customers receive the best plumbing services. You can have complete peace of mind when you contact us!
Get in touch with our team today!
"*" indicates required fields